OEM/ODM Cast Iron Cookware manufacturer in China
Zhengzhong Technology is a leading OEM ODM cast iron cookware manufacturer in China, a company specializing in the design, development and production of cast iron cookware and enameled cast iron cookware. With rich experience in the manufacture of cast iron cookware, and continuous improvement of production process and increase of production capacity, we are committed to providing customers with the best delivery time and high quality enameled cast iron cookware. We have a professional service team and manufacturing workshop.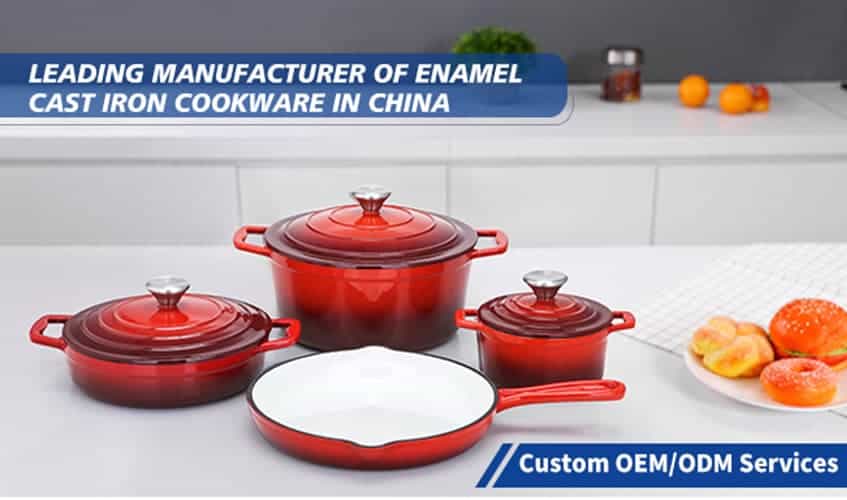 Cast iron cookware has a stable and uniform release of heat, ideal for low temperature and healthy cooking methods, and is popular around the world. We provide our customers with a wide variety of Cast iron dutch oven,cast iron skillet/frying pan,cast iron baking dish/roasting pan,cast iron wok,cast iron burger press,cast iron camping cooking pot etc,.
Advantages of enameled cast iron cookware
Lock in deliciousness and nutrition:
The shower design on the inside of the lid can promote the circulation of water vapor in the oven, lock the moisture, and maintain the flavor of the food. The inner wall of black microporous enamel absorbs oil, making food healthier.
High thermal conductivity:
Has good thermal conductivity and saves time when cooking compared to regular Dutch oven pots. Because of this, enameled cast iron pans are good at keeping warm, allowing for steaming meals even in cold winters.
Healthy material:
Safe enamel coating is non-stick, rust and corrosion resistant, resists rust growth and does not react with food. Perfect for cooking and storing food, and easy to clean.
easy and enjoyable cooking
The elegant cherry red design makes cooking more enjoyable, and the bright color decorates your kitchen or dining table. It's perfect for stewing, stewing, boiling, and even a novice in the kitchen can cook delicious food with it.
We also pay more attention to enamel materials, trying to ensure that all toxic and harmful substances are within the scope of international standards. Cast iron cookware can pass a comprehensive and strict inspection. FDA, CA65, LFGB and other standards have brought the safety of cast iron products to a new level.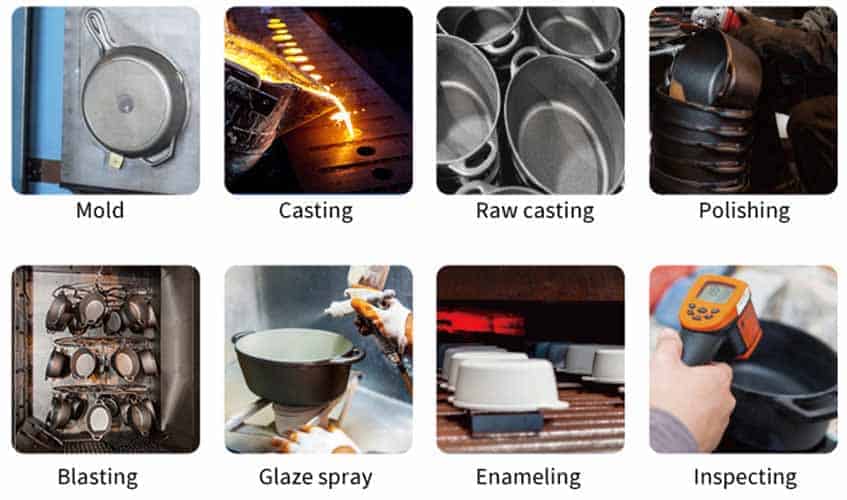 We will do our best to create new high-quality products to meet your exclusive needs, and provide you with pre-sale, in-sale and after-sale products and services for OEM/ODM cast iron cookware. Our company has always adhered to "Quality, Integrity, Customer First" "The business philosophy has won the trust of domestic and foreign customers.
Our products are hot selling to worldwide to more than 50 countries including to North America, Europe, Australia, Middle East, South East Asia etc marketplaces and domestic market, with major customers including famous brands, TV shopping companies, chain stores, supermarkets, hypermarkets and capable importers and so on. We look forward to the close cooperation with more partners and customers all over the world!