Classic Moroccan Recipes That Everyone Will Love
If you've bought a cast iron tagine for the first time and are wondering what to make in it, or you simply want an introduction to Moroccan main dishes, this list will give you the start you need. All are classic Moroccan recipes that are tried and true favorites that are easy to prepare in either tagine or other cast iron cookware.
01
Chicken With Preserved Lemon and Olives
This dish is one that you'll return to making time and again, and that's exactly what Moroccans themselves do whether cooking a weekday meal for their own families or preparing a larger spread of food to serve to guests. Saffron, ginger, and turmeric are key spices, but it's the addition of preserved lemon and olives that transforms the flavors into something marvelously tangy and savory.
02
Lamb or Beef With Prunes
Even if you don't normally think to reach for prunes at the grocery store, you'll definitely want to add them to your shopping list so that you can try this fabulous dish. Moroccan cooking features a number of sweet and savory dishes that pair meat with fruit, and this particular combination may arguably be the most popular. Lamb or beef is cooked to buttery tenderness with fragrant Moroccan seasoning and then topped with prunes, which have been simmered in a cinnamon and honey syrup. 
03
Chicken and Apricot Tagine
Here's another sweet-and-savory combo that is sure to please the palate of even picky eaters. Chicken is slowly cooked until tender with onions, garlic, saffron, ginger, and cinnamon and then topped with dried apricots that have been poached in syrup. As with other fruit tagines, this one is quite easy to make.
04
Classic Fish Tagine With Chermoula and Vegetables
A zesty Moroccan marinade called chermoulatagra is used in place of cooking in a cast iron tagine.
05
Moroccan Meatball Tagine in Tomato Sauce
If you've been hesitant to dig into a cast iron tagine the Moroccan way—with a chunk of crusty bread for dipping—this comfort food favorite might just compel you to do so. Well-seasoned meatballs (kefta mkaoura) are cooked in spicy homemade tomato sauce and then traditionally garnished with poached eggs for the perfect finishing touch.
06
Vegetarian Chickpea and Carrot Tagine
This easy tagine with chickpeas and carrots never fails to elicit compliments. Picquantly seasoned with a touch of sweetness from cinnamon and honey, you'll find it's the perfect vegetarian entrée or side dish. Raisins are an optional addition.
07
Chicken, Lamb, or Beef Tagine With Peas and Artichokes
Veggie-laden tagines are the Moroccan equivalent of a one-pot meal or stew. In the winter months, peas and artichokes are in season, and they are often paired in dishes such as this one. Saffron, ginger, and turmeric are key spices. In Morocco, the peas are freshly shelled and fresh artichoke bottoms are pared by hand, but you can use frozen veggies instead for convenience.
08
Berber Tagine With Vegetables
Lamb or beef is hidden under a conical arrangement of seasonal veggies in this impressive everyday Berber-style dish. To use a cast iron tagine to add earthy, satisfying flavor to that provided by preserved lemon, olives, and generous Moroccan seasonings. Chile pepper is a must-have addition in many homes, but omit it if you don't want the extra heat.
09
Merguez Sausage and Egg Tagine
Humble eggs conquer the main-dish status when cooked with onions, tomatoes, and spicy merguez sausage. A dusting of salt, pepper, and cumin usually suffices for seasoning, but those who prefer things a bit more fiery will find that harissa works as the perfect condiment.
10
Tagine of Shrimp in Tomato Sauce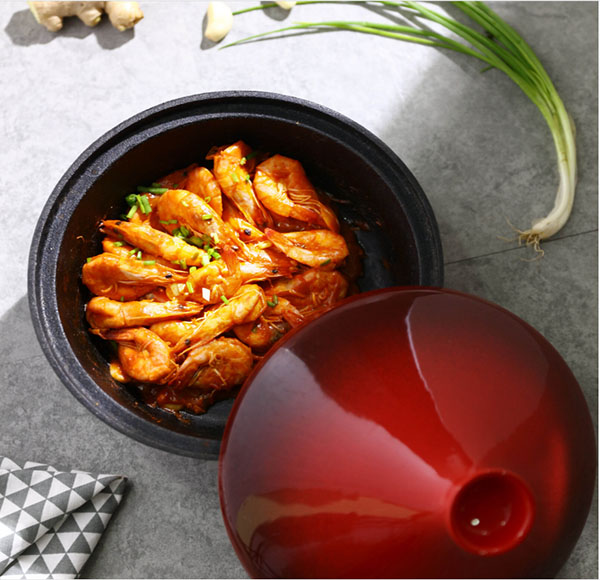 Tomato sauce forms the base for a scrumptious seafood tagine of shrimp. Tradition is, of course, to eat communally from the tagine using pieces of Moroccan bread in lieu of a fork, but for this particular dish, you might prefer to serve it over a bed of rice or pasta.
I believe that you may would like to try to do the cooking with cast iron tagine now, Shijiazhuang Zhengzhong Technology Co., Ltd is a manufacturer which could provide a wide range of cast iron cookware include the tagine, welcome to visit our website: www.centercookware.com and if any inquiry, please do not hesitate to send us email: centergz@zztc.cn